As discussed in the external links section above, links are one the main mechanisms by which search engines find new pages and determine the relevance and importance of pages. As with external linking to your site the internal links within a site play an important role in passing on pagerank and relevance.
Firstly ensure you have a very clear structure on your site such as the following: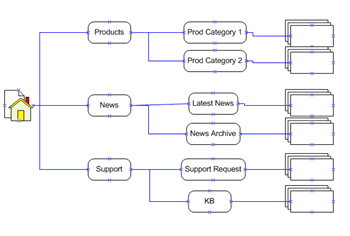 It is important to consider that pages linked to from the homepage will inherit some the page rank (PR) importance €" as can be seen with the Google PR on the Google toolbar. What you will commonly notice is that the further you traverse down the navigation tree the more the PR degrades on a site. If you find pages that are linked to from the homepage then these will commonly have a PR just under the homepage PR. Pages that are only linked to from lower level pages will have a low PR.
What does this mean or matter you might ask? Well the higher the page rank of those underlying pages the more chance they have of coming top for a given search that matches the TITLE, META and content of that page.
The PR degradation discussed here can be altered by externally high PR pages linking to a page somewhere other then the homepage on your site. These in effect pass the PR onto your pages which can in some circumstances increase your page low in the navigation tree to a PR level the same as your homepage.